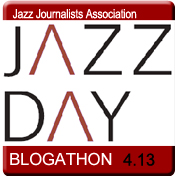 The following post is one of many being featured in the Jazz Journalists Association's 2012 Jazz Day Blogathon, with a focus on jazz in local communities.
Sometimes I tell friends that a key benefit of living on Manhattan's Upper West Side is the ease of subway travel. A couple of blocks to the 1-2-3 train and I can zip down to the Village Vanguard or the Jazz Gallery, or perhaps further out to Brooklyn, or for that matter uptown to Harlem. But jazz is very much present on the UWS, and there are times when I need not go far at all.
Cleopatra's Needle books music every night, including open mics and jam sessions. But far bigger names, and more consequential music, can be found about 10 blocks north at Smoke: look for visits from luminaries such as Frank Wess, George Coleman and Buster Williams, or more frequent appearances by respected vocalists Gregory Porter and Allan Harris.
Smoke is also home to a coterie of young-ish expert hard-boppers including saxophonists Eric Alexander and John Farnsworth, pianist David Hazeltine and organist Mike LeDonne. I have fond memories of bracing performances at Smoke by David Berkman, Wayne Escoffery (with Joe Locke), Orrin Evans and others.
My next neighborhood stop, on April 21, will be at Symphony Space, for Liaisons: Re-Imagining Sondheim from the Piano. I've been devouring Sondheim for the last year and can't wait to hear interpretations from a roster of artists including Derek Bermel, Ethan Iverson, Fred Hersch, Gabriel Kahane and others from various corners of the jazz and new music worlds. Symphony Space covers a lot of ground, from theater to film to music and more, but jazz has always been a major component.
My last visit was on January 21 to hear Arturo O'Farrill and the Afro-Latin Jazz Orchestra. Tremendous night. They're back in mid-May.
Jazz exists on the UWS in other ways. Strolling up Riverside Drive, just up from the Firefighters Memorial on 100th Street, I always take a moment to appreciate Duke Ellington Boulevard (106th). Billy Strayhorn lived in the area too (it's richly detailed in David Hajdu's Strayhorn biography Lush Life). So did George Gershwin. It's also worth noting that Columbia University, dominating the landscape of Broadway above 110th Street, is home to the Center for Jazz Studies — a vital institution with strong leadership over the years from Robert O'Meally, George Lewis and our own JJA colleague John Szwed.
The Riverside Park Fund hosts outdoor jazz concerts in the warmer seasons. Right on the grass one very sunny July 4th, I stumbled on a strong quartet set by bassist Ron McClure with tenor saxophonist Jed Levy — a really nice surprise. I've also discovered that Jay Leonhart, John Pizzarelli and Uri Caine are among the top-tier jazz musicians who make their homes in this vicinity. If they're like me, they're not leaving anytime soon.